Fludarabine in Combination With Daunorubicin and Cytarabine Liposome in Newly-diagnosed Acute Myeloid Leukemia.
a study on Acute Myeloid Leukemia Leukemia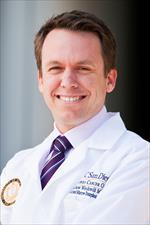 Description
Summary
Official Title
Details
Keywords
Acute Myeloid Leukemia, Adult AML AML, Adult Vyxeos CPX-351 Fludarabine Untreated AML Leukemia Leukemia, Myeloid Leukemia, Myeloid, Acute Fludarabine and CPX351
Eligibility
Location
Lead Scientist
at UC Cancer
Matthew Wieduwilt, MD, PhD

(ucsd)


Associate Clinical Professor, Medicine. Authored (or co-authored) 26 research publications. Research interests: Acute lymphoblastic leukemia (ALL) · Acute myeloid leukemia (AML) · Bone marrow transplant · Clinical trial design and conduct.
Details
Status

accepting new patients

Start Date

Completion Date

(estimated)

Sponsor

University of California, San Diego

ID

Phase

Phase 2

Study Type

Interventional

Last Updated
Frequently Asked Questions